Breaking Bread with Your Arizona Forward Party Neighbors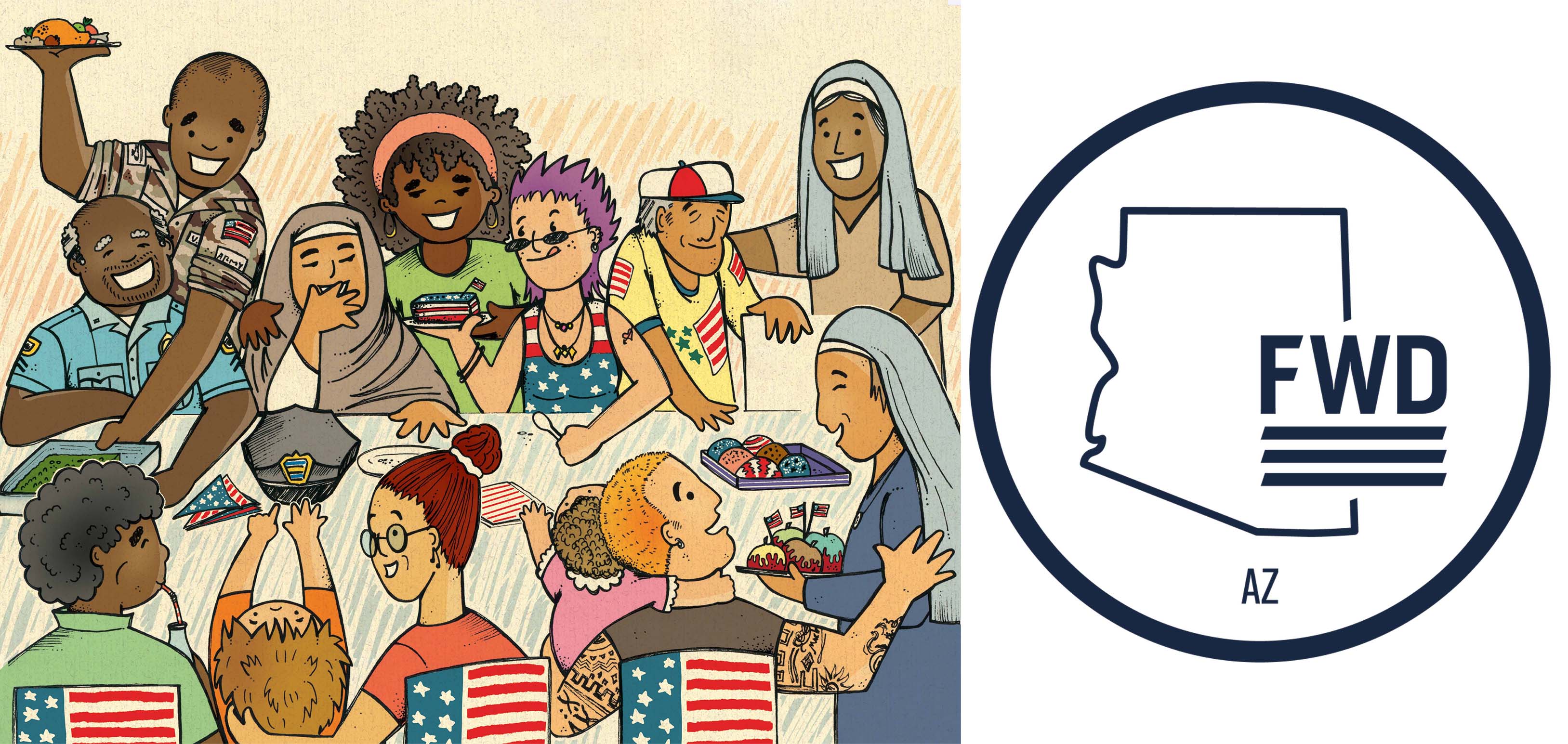 food, fellowship and fun with state leads, and supporters of the Arizona Forward Party
6:00 to 8:00 p.m., Sunday, October 30, 2022
1912 E. Loyola Drive, Tempe AZ 85282
Special Guests:
• Janelle Ivie - Arizona Forward Party State Lead
• Christopher Hendrickson - Arizona Forward Party State Lead
The Tempe neighborhood potluck group is proud to join with the Arizona Forward Party to present an event timed perfectly for the upcoming mid-term elections in November.
Theme for the event: To inform, educate, and activate our community by increasing civil discourse, unity and understanding.
Forward Party state leads and supporters will be in attendance, but this is not a campaign rally. This is a social event which will provide neighbors an opportunity to meet, eat, and talk politics (or NOT talk politics, as they prefer), alongside anybody in the community who wants to learn more about the Forward Party.
Forward Party special guests will have opportunities to address the group and answer questions, but this is primarily a potluck dinner. Guests will eat great food while meeting neighbors.
What Should I Bring? This is a free event. But guests will bring a dish to share. Enough for 6 to 8 people. Main dish, dessert, salad, side dish, hors d oeuvres, etc. Food only. The hosts will provide plates, utensils, drinks, etc.
How Should I Dress? This will be a pretty fabulous event, but it is a casual event. Some people may be wearing semi-formal attire. But most will probably be dressed casually, such as in T-shirts and jeans.
Who is Invited? This event is open to everyone (Forward Party supporter or not)! Keep in mind this is a social event, not a debate. If you do not know much about the Forward Party, this is an opportunity to ask questions, listen and learn more.
Do I need to belong to the Tempe neighborhood potluck group or the Forward Party in order to attend? No.
What about other political parties? We reached out to all of Arizona's largest political parties simultaneously. October events for Democrat and Republican parties are also scheduled and we are still working on contacting representatives of other political parties so that we can schedule similar events with them.
RSVP? Yes. Everyone who goes must RSVP in advance. Attendance for this event will be capped at 100 people. If you plan to come, be sure to RSVP soon. You do not need to RSVP if you are not planning to come. To RSVP, use your standard Meetup.com or PotluckDinner.org RSVP buttons, or email: rsvp@potluckdinner.org [or] text: 480-269-5823
Items guests have signed up to bring:
C. A: Chips
J. I: Cookies
N. S: casserole or lasagne
S. B: Quiche
D. K: Chips
H. C: Custard
J. J: Dip
J. M: Red Beans & Rice
S. R: Potato croquettes
T. S: Fresh veggies or salad
K. M: ?
L. J: ?
A. E: ?
B. E: ?
C. W: ?
D. K: ?
J. H: ?
J. K: ?
K. S: ?
M. A: ?
P. H: ?
R. T: ?
S. R: ?