Breaking Bread with Democrat Candidates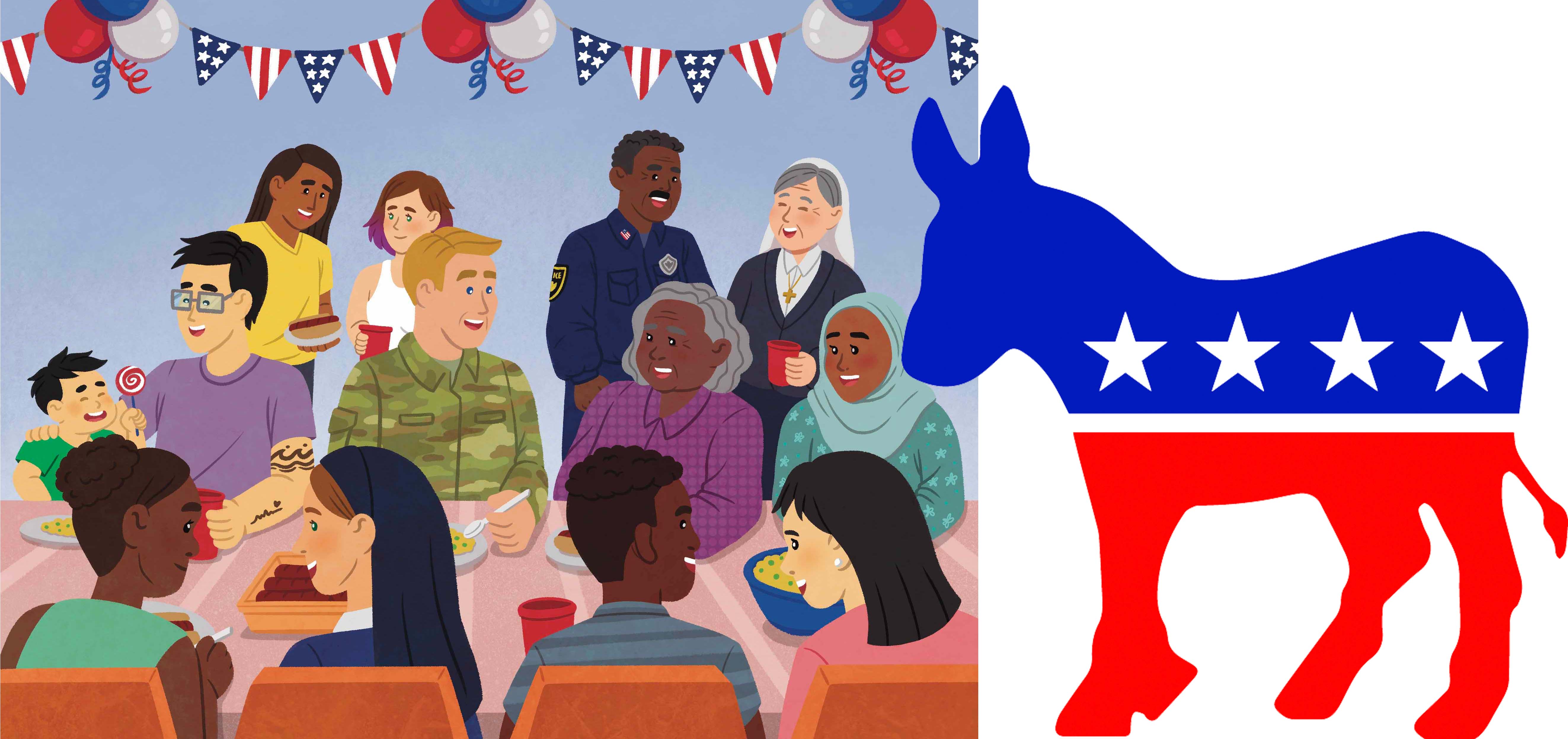 food, fellowship and fun with like-minded neighbors
6:00 PM, Saturday, October 8, 2022
The Emerson, 101 W. 5th Street, Tempe, AZ 85281
Officially confirmed candidates attending the event:
Tempe Union High School District - Andres Barraza
Arizona State Representative - Melody Hernandez
Maricopa County Constable - Karyn Lathan
Kyrene Justice Precinct Constable - Bridget Bellavigna
The Tempe neighborhood potluck group is proud to join with the Phoenix-area Social Progressives and local Democrat organizations to present an event timed perfectly for the upcoming mid-term elections in November.
Theme for the event: To inform, educate, and activate our community by increasing civil discourse, unity and understanding.
Democratic Party elected officials and candidates running in local and state offices will be in attendance. (More details with specific names will be announced soon.) But this is not a campaign rally. This is a social event which will provide like-minded neighbors an opportunity to meet, eat, and talk politics or NOT talk politics, as they prefer.
Candidates and party representatives will have some opportunities with a microphone to address the group and answer questions. But this is primarily a potluck dinner. Guests will eat great food while meeting neighbors.
This event will be held at a fabulous location in downtown Tempe at the Emmerson. The pool, fireside lounge, theater and clubhouse have all been reserved for the evening.

What Should I Bring? This is a free event. But guests will bring a dish to share. Enough for 6 to 8 people. Main dish, dessert, salad, side dish, hors d oeuvres, etc. Food only. The hosts will provide plates, utensils, drinks, etc.
How Should I Dress? This is a pretty fabulous venue, but it is a casual event. Some people may be wearing semi-formal attire. But most will probably be dressed casually, such as in T-shirts and jeans.
Who is Invited? This event is open to anyone in the community who is a Democrat, or who votes Democrat/liberal/progressive. Keep in mind this is a social event, and not a debate.
Do I need to belong to the Tempe neighborhood potluck group or the Social Progressives group in order to attend? No.
Why is this event being organized? For fun. Because members of the group asked for something like this. This will be the 29th event organized by the Tempe neighborhood potluck group since July 2021. This is a non-partisan group open to everybody in the community. All prior events have been attended by people of all political persuasions. Often neighbors attended multiple events without politics ever coming up. (There are lots of other things people like to talk about!) But with the election coming up, some people are interested in talking with neighbors who vote similarly. Having said that, this event will not be specifying topics of conversation. If you're at a table where everybody is talking about sports or their kids or jobs or their favorite restaurants or anything else, that's totally fine.
Is there a GOP/RNC/conservative event? Yes. Both events are being announced simultaneously.
What about other parties? We reached out to Arizona's four largest political parties simultaneously. We only heard back from two of them. After the events centered on those two have been announced, we will try again to reach out to the others.
RSVP? Yes. You can not simply show up. Everyone who goes must RSVP in advance. Attendance for this event will be capped at 100 people, and we expect spots to fill up fast. So if you plan to come, be sure to RSVP soon. You do not need to RSVP if you are not planning to come. To RSVP, use your standard Meetup.com or PotluckDinner.org RSVP buttons, or email: rsvp@potluckdinner.org [or] text: 480-269-5823
Items guests have signed up to bring:
B. B: ??
KB: Pasta Salad
Melody: TBD
Rhianna: Veggie tray
A. B: hot hors d'oeuvres
B. W: Not sure yet
D. K: Deviled Eggs
J. T: pasta salad
J. J: Dip
K. B: charcuterie
K. S: dessert
L. K: salad
M. A: Beef brisket
M. E: sausage casserole
P. C: Veggies
S. R: home made Lasagna
T. S: chips or snack food
A. W: ?
E. G: ?
G. S: ?
G. D: ?
K. L: ?
M. P: ?
P. H: ?
R. T: ?
S. R: ?
S. R: ?
W. R: ?