GAIN Night Meet the Artist and Plan the Selleh Park Art Installation Potluck Dinner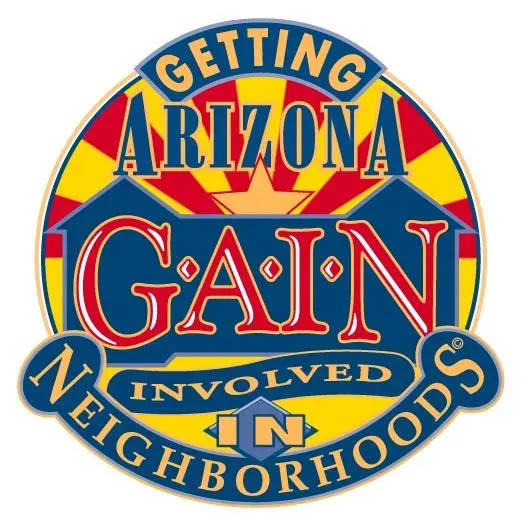 GAIN Night
Meet the Artist and Plan the Selleh Park Art Installation
Potluck Dinner
Saturday, October 22, 2022
4 to 6 p.m.
Location:


Selleh Park, 2425 S Los Feliz Dr, Tempe, AZ 85282
Near the concrete standpipe by the playground.

Free Event! Bring a food item to share.
Potluck Dinner
Lawn Games
Pinata
2022-2023 Neighborhood grant art project information / meet the artist / finalize plans for the art installation
Plant exchange – bring clippings/seeds/plants – whatever you wish – and take some new ones home to enjoy (or just take some; no obligation to bring)
We will have tables, chairs, and disposable plates/cups/utensils
Already Provided: Burgers, hot dogs, buns, and condiments will be provided. Please do not bring water, plates, utensils, cups, etc., as those will be provided.
What Should I Bring? Please bring any type of food item, enough to share with 8 to 10 people. May bring a main dish, salad, bread item, dessert, appetizer, etc. No alcohol (per park rules).
Sponsored By: The city of Tempe, GAIN (Getting Arizona Involved in Neighborhoods), Tempe Neighborhood Services and the Maryanne Corder Neighborhood Grant Program
https://www.tempe.gov/government/community-development/neighborhood-services/getting-arizona-involved-in-neighborhoods-gain
https://www.tempe.gov/government/community-development/neighborhood-services/neighborhood-grant-program
https://www.tempe.gov/government/community-development/neighborhood-services
Who? This event is open to everyone who wants to attend. This event will be of particular interest to neighbors who live near or use Selleh Park. This GAIN night potluck event is officially sponsored by the McClintock, Alameda Meadows, Palmcroft Manor, and Santo Tomas neighborhoods, as designated by the city of Tempe.
About the Event: This event is an opportunity for neighbors to have fun meeting each other, eating, and talking. But ALSO, we will be meeting the artist who has been selected by a neighborhood grant that was awarded to the McClintock Neighborhood Association.
The Artist and the Art Installation: Arizona artist Charles M. Hilton has been selected as the artist who will create a new art installation at the irrigation standpipe in Selleh Park. Charles' family moved to the Selleh Park/Shalimar neighborhood when he was 4 years old. He grew up and graduated from high school here. This permanent art installation will be the culmination of the McClintock Neighborhood Association's 2022 grant funded by the city's Maryanne Corder Neighborhood Grant Program. The art installation and associated meetings and community engagement are sponsored by the city of Tempe.
The artist's website is here: https://www.chivesta.com/
At This Event: Neighbors will have an opportunity to meet the artist. He will explain the process. We will review options, including for theme and imagery, provided by neighbors at a previous Zoom meeting and through prior online interaction.
We will be making final decisions about the art installation at this potluck event. So all neighbors who are interested in this project are encouraged to attend.
Note that you are not required to bring food in order to participate in the discussion and vote on the proposals for the project. Also: If any block-specific GAIN event is organized within the McClintock Neighborhood Association boundaries, association residents who attend that event will have an equal opportunity to vote. If you want to participate in discussion and decisions about the installation, contact us using the form at: https://mcclintockneighborhood.org/
Before This Event: Prior to the "meeting the artist" potluck dinner event, the neighborhood will have its first meeting with the artist on Wednesday, Sept. 7, 2022 at 7 p.m., via Zoom, using a link provided by the city of Tempe:
https://www.tempe.gov/government/community-development/neighborhood-services/neighborhood-meetings
At these meetings, the artist will be asking the following questions to the participants:
- What kind of design would you like to see? What sort of themes and imagery should be a part of this?
- What are your preferences on material and colors?
- How can we make everyone that sees it recognize our neighborhood and its culture and vibe?
Basically: Beginning with the Zoom meeting on September 7, we will begin discussion about options for the the project, seeking input from the community. Then at the in-person event on October 22, we will be making final decisions as a community about the final options.
Parking: If you drive, the easiest and closest place to park will be in the Curry Elementary School parking lot, which is only about 200 feet from where the event will be located.
RSVP: Please RSVP so that we can plan for tables, chairs, burgers, hot dogs, buns, etc. To RSVP, use your PotluckDinner.org RSVP button if you are already registered with PotluckDinner.org, or use the form above, or email: rsvp@potluckdinner.org [or] text: 480-269-5823
Items guests have signed up to bring:
Jordan: Fresh Salsa and chips
A. B: Main hot dish
A. T: Don and I can bring burgers and grill them
B. L: Chips & Dip
C. N: piñata
D. K: Beans I think
E. T: lemon cupcakes
J. K: Salad
K. V: Maybe pumpkin bread? A salad?
L. J: dessert
R. R: Dessert
S. R: Appetizer
T. G: popeyes chicken
E. R: ?
J. C: ?
A. G: ?
D. M: ?
G. S: ?
J. R: ?
J. B: ?
J. R: ?
M. P: ?
P. H: ?
R. G: ?
R. T: ?
T. B: ?
T. S: ?