Thanksgiving Day Potluck Dinner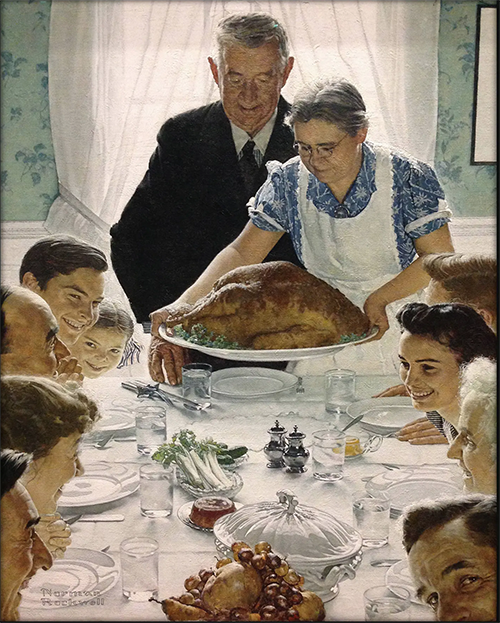 3:00 p.m.
Thursday, Nov. 24, 2022
What? Traditional Thanksgiving dinner. On Thanksgiving Day. With neighbors from the neighborhood potluck list.
Who? Most people on the neighborhood potluck list will not come to this event. But everybody on the list and everybody from the neighborhood is welcome. If you have a traditional Thanksgiving dinner planned with your family or friends, then of course you should go to that rather than this event.
Why? This is an alternative event for anybody - whether they're a single individual living alone or a whole family - who wants to enjoy a traditional Thanksgiving meal, without having to prepare multiple dishes. Each person or household will only need to prepare one dish. And we will have fun eating and talking with neighbors, including people you have already met, and new friends you have not met yet.
What should I bring? Please sign up to bring something from the list below, covering traditional Thanksgiving dishes. This is not a "bring whatever you want" event.
Turkey
Ham
Mashed potatoes, or any style of potato dish
Green bean casserole or any style of green bean dish
Dressing/stuffing
Sweet potatoes or yams
Corn, any green vegetables with any style
Squash any style
Cranberry sauce
Dinner rolls, corn bread
Pies
Is this a Friendsgiving event? It is similar, but not exactly. This is open to everybody on the neighborhood potluck list. Veterans attendees of neighborhood potluck events may know many people there, but other people coming to this event will know few if anybody else there. Which is part of the fun!
Indoor or outdoor seating? Both.
When? 3:00 p.m., Thursday, November 24, 2022
Where? 1912 E. Loyola Drive, Tempe AZ 85282
RSVP? There is no need to contact us if you will not be coming to this event. But we need you to RSVP if you plan to come, or are a strong "maybe" and want to stay informed about this. Please send email to rsvp@potluckdinner.org, or text message to 480-269-5823
Items guests have signed up to bring:
B. N: cranberry salsa
B. E: brownies and maybe side dish like mac cheese
C. S: wild rice (Rice from Nett Lake is traditional food for Great Lakes Native people in US and Canada)
D. S: sweet potatoes
D. K: Ham
H. T: bread; soft drinks
H. C: ham
J. S: Dill roasted veggies
J. K: ham
K. U: mashed potatoes
L. N: baked potato and green vegetable dish
L. J: cranberry sauce
M. R: sweet potatoes
N. M: stuffing
P. A: green bean casserole
P. H: ham; turkey
R. S: pumpkin pie
S. V: pecan pie
T. C: Cranberry Pie, or Apple Pie
T. S: Bread
A. R: ?
B. C: ?
C. W: ?
C. D: ?
H. T: ?
S. R: ?