Armchair Adventure Book Club: The Archer's Thread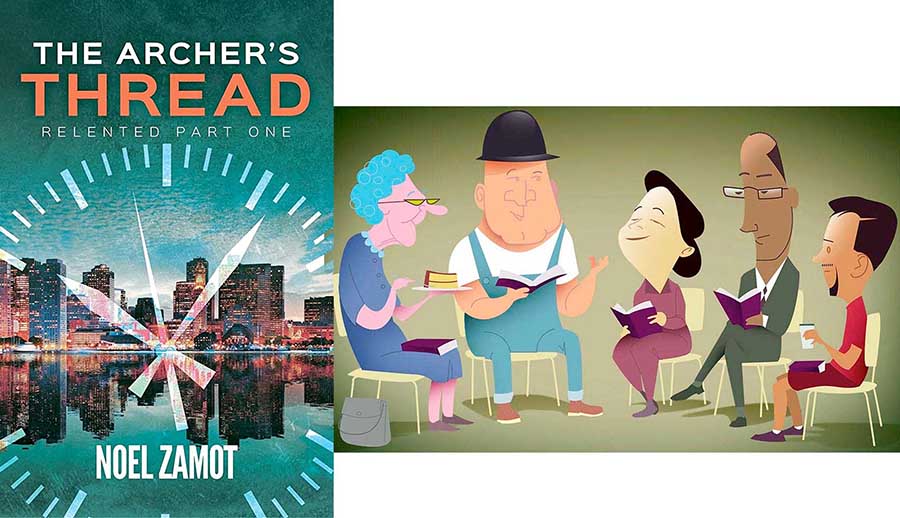 Tempe Public Library, 3500 S Rural Rd, Tempe, AZ 85282
Ironwood Classroom (main level)
6:30 to 8:00 p.m., Wednesday, May 31, 2023
Hosted by Tempe resident bibliophile Tracy Sobers
The Book: The Archer's Thread, by Noel Zamot.
You should be able to check out a physical or digital copy of this book from Tempe-area public libraries. If there are no copies available at the library, you can easily buy this book as a digital download. I bought it for one dollar within the iBook app. It is available for $2.99 on Kindle.
Special note: What brought this novel to our attention is the fact that the author is Sonia's cousin. Sonia and her husband David are among the neighborhood group's most frequent hosts and are well known by most of the group's regular participants. This local connection to the author is what initially caught my attention. So I read it before considering it as a possible book club selection. Once I got into it, I couldn't put it down. It is a real page-turner that is very much a spy novel, but also fascinating science fiction and very compelling romance.
We plan to organize an event in the future during which we will be able to speak with the author. For THIS month's book club, we are encouraging everyone who is interested in the book club generally to attend, even if you do not have a chance to finish reading this book. We will also be discussing new suggestions for books to read through the remainder of the year. Refreshments will be provided: drinks and unique Froyo Tacos from locally-owned and operated Aloha Yogurt.
Simon Lyons can see ten seconds into the future.
Gold Medal, 2021 Florida Book Awards for Popular Fiction
Silver, 2022 Florida Authors and Publishers Association President's Awards.
Finalist, ScreenCraft Cinematic Book Competition
Currently represented by Gravity Squared Entertainment for adaptation to the screen
What to Bring? You do not need to bring anything. Simply read the book (or start reading it), before attending the meeting. It can be useful if you bring your physical or digital copy of the book.
Who? This is a fun book club event that men and women from the neighborhood potluck list are invited to, along with everybody else who is interested.
Fun Book Club: This will be the 9th meeting of this new book club. We had so much fun at the all of the meetings so far, with wonderful, fascinating discussions with great neighbors and new friends. If you like books or interesting discussions... or simply want to have fun meeting new people, I highly recommend RSVP-ing for this event.
RSVP: If you plan to come, please RSVP using your personalized link, or contact us directly: Email: rsvp@potluckdinner.org [or] text: 480-269-5823
About the book:
The condition is useful at work: quiet international negotiations with the worst people you've never heard of. His employers think he's quite valuable. His victims think he's a sociopath. He does his best to hide the truth from everyone: the condition is slowly driving him insane. Searching for a cure, he disappears to Boston, the last place he remembers as home. A book from his past leads him to a young college professor with an unexpected gift: around Doctor Kelly Austin, the chaos of a thousand possibilities dies away, leaving behind clarity and peace. Desperate for normalcy, Simon manipulates everyone to enter Kelly's life, find the secret -- and leave.

That's when his past returns, stopping at nothing to keep his the origin and extent of his "condition" buried. When someone discovers Kelly might be the key to controlling the most dangerous person on earth, Simon must choose: return to a short life of violence, or sacrifice everything for the terror of redemption.