Tempe Community Chorus: Happy Together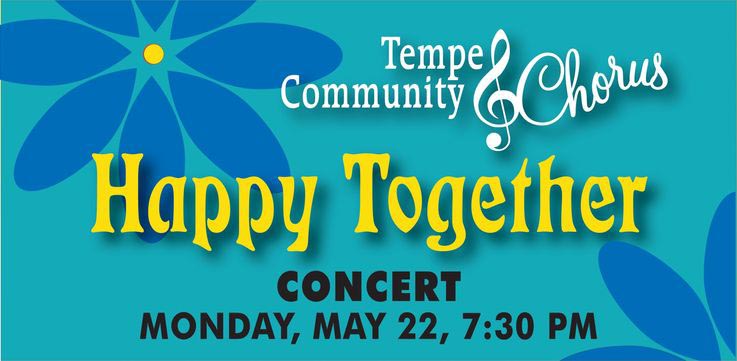 7:30 p.m., 22 May 2023
First Baptist Church of Tempe
4525 S McClintock Dr, Tempe, AZ 85282
Doors open at 7:00 p.m. • Tickets $15 (children 12 and under: $5). Tickets may be purchased with cash at the door, or purchased before the concert online: click here.
Karin Crawford is a member of the neighborhood potluck group. She is inviting the group and all neighbors to get together to attend a live music concert:
"On Monday, May 22nd, the Tempe Community Chorus is having it's spring concert at First Baptist Tempe at McClintock and the 60. Doors open at 7 pm. $15 for tickets ($5 for Child under age 12), available at the door. This is a great opportunity to invite friends or neighbors to a fun evening - upbeat, fun music, not evangelistic - time to have fun together with music and an enthusiastic choir of over 100 community people."
Tempe Community Chorus will perform an array of fun songs including "Happy Together," "Daddy Sang Bass," "It's All Right" from Soul, "Oh Happy Day," and "Can't Help Falling in Love." Mill Avenue Singers will also perform.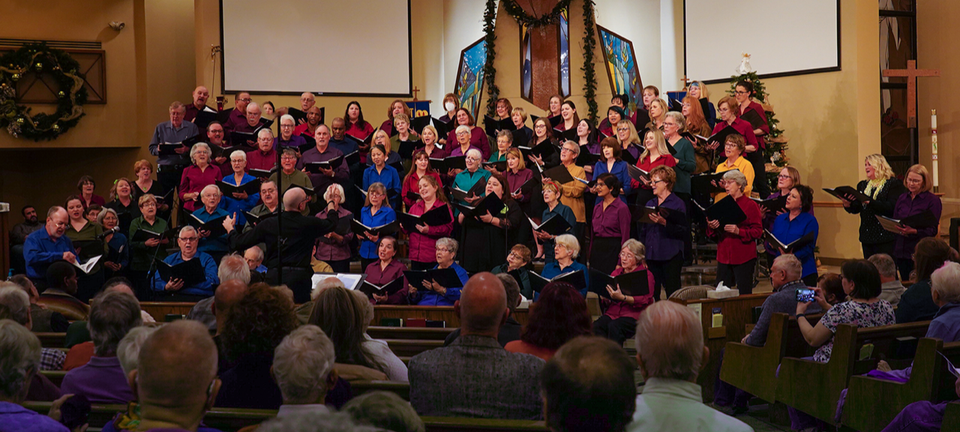 About the chorus:
Tempe Community Chorus, an adult non-profit organization, is dedicated to the performance of varied mixed-voice music for the benefit, education, and enjoyment of its members, and the surrounding communities. The chorus was founded in August 1991 to provide an educational, cultural, and recreational resource for adults interested in singing four-part harmony. Since that time we had grown to a chorus of over 150 members, but are currently thrilled to be back after a three year absence with 108 members. We have provided entertainment at many local venues including Tempe Center for the Arts, The Kerr Cultural Center in Scottsdale, Mesa Arts Center, and a variety of churches in the area. We also accepted an invitation to sing on stage with Hugh Jackman for the "Hugh Jackman - The Man. The Music. The Show 2019 World Tour."
Official Facebook page for the event:
https://www.facebook.com/events/3387428494854791
Facebook page for the Tempe Community Chorus:
https://www.facebook.com/tempecommunitychorus/
You may view or download the complete program for the concert:
https://tempecommunitychorus.org/sites/tempecommunitychorus.org/files/file_attach/Concert%20Program.pdf
RSVP? You do not need to RSVP in order to attend. But RSVPs will be much appreciated to help with planning, and so we can let you know where to meet up with other members of the neighborhood group. To RSVP, use your standard Meetup.com or PotluckDinner.org RSVP buttons, or email: rsvp@potluckdinner.org [or] text: 480-269-5823