Armchair Adventure Book Club: Down a Dark River (Meet the Author!)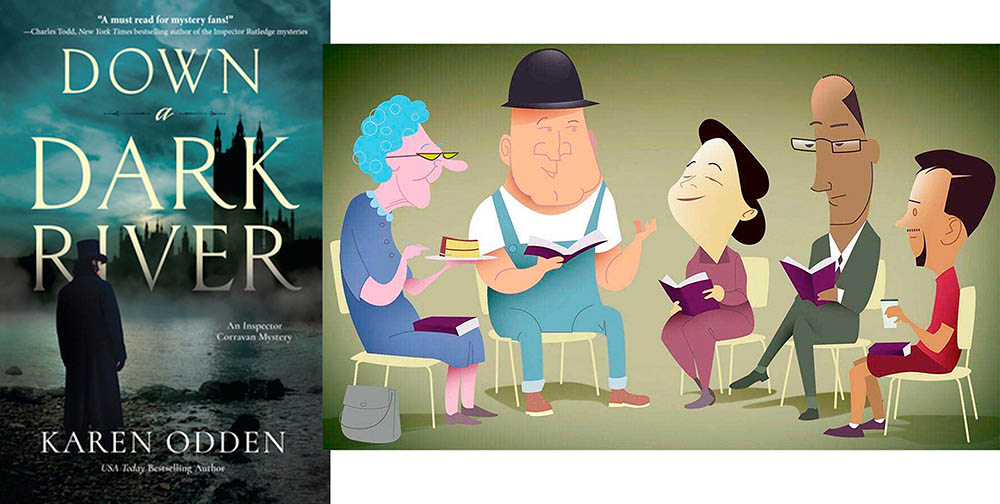 Free event
Tempe Public Library, 3500 S Rural Rd, Tempe, AZ 85282
Ironwood Classroom (main level)
6:00 to 8:00 p.m., Monday, March 27, 2023
Hosted by Tempe resident bibliophile Tracy Sobers
SPECIAL GUEST:
Karen Odden, author if this month's book club selection.

SPECIAL FORMAT: We encourage everyone to read the book, but you DO NOT NEED TO READ the book in order to attend.
Everyone will have an opportunity to speak to the author and ask questions, or simply listen to the discussion about Down a Dark River and her work in general.

PRE-MEETING RECEPTION: The meeting will officially begin at 6:30 p.m., but beginning at 6:00 there will be an informal reception with snacks/treats.
All guests are welcome to bring snacks/treats/hors d oeuvres (but not required to).
The Book: Down a Dark River, by Karen Odden. 336 pages.
In the vein of C. S. Harris and Anne Perry, Karen Odden's mystery introduces Inspector Michael Corravan as he investigates a string of vicious murders that has rocked Victorian London's upper crust.
Here is a great interview with the author:
https://www.facebook.com/watch/live/?ref=watch_permalink&v=549325313365748
What to Bring? You do not need to bring anything. Simply read the book, OR listen to the audio book before attending the meeting. It can be useful if you bring your physical or digital copy of the book.
Who? This is a fun book club event that men and women from the neighborhood potluck list are invited to, along with everybody else who is interested.
Fun Book Club: This will be the seventh meeting of this new book club. We had so much fun at the all of the meetings so far, with wonderful, fascinating discussions with great neighbors and new friends. If you like books or interesting discussions... or simply want to have fun meeting new people, I highly recommend RSVP-ing for this event.
You should be able to check out a physical or digital copy of this book from Tempe-area public libraries. An audio book is also available.
RSVP: If you plan to come, please RSVP using your personalized link, or contact us directly: Email: rsvp@potluckdinner.org [or] text: 480-269-5823
About the book:
London, 1878. One April morning, a small boat bearing a young woman's corpse floats down the murky waters of the Thames. When the victim is identified as Rose Albert, daughter of a prominent judge, the Scotland Yard director gives the case to Michael Corravan, one of the only Senior Inspectors remaining after a corruption scandal the previous autumn left the division in ruins. Reluctantly, Corravan abandons his ongoing case, a search for the missing wife of a shipping magnate, handing it over to his young colleague, Mr. Stiles.

An Irish former bare-knuckles boxer and dockworker from London's seedy East End, Corravan has good street sense and an inspector's knack for digging up clues. But he's confounded when, a week later, a second woman is found dead in a rowboat, and then a third. The dead women seem to have no connection whatsoever. Meanwhile, Mr. Stiles makes an alarming discovery: the shipping magnate's missing wife, Mrs. Beckford, may not have fled her house because she was insane, as her husband claims, and Mr. Beckford may not be the successful man of business that he appears to be.

Slowly, it becomes clear that the river murders and the case of Mrs. Beckford may be linked through some terrible act of injustice in the past—for which someone has vowed a brutal vengeance. Now, with the newspapers once again trumpeting the Yard's failures, Corravan must dredge up the truth—before London devolves into a state of panic and before the killer claims another innocent victim.