A Neo-Soul Jazz Potluck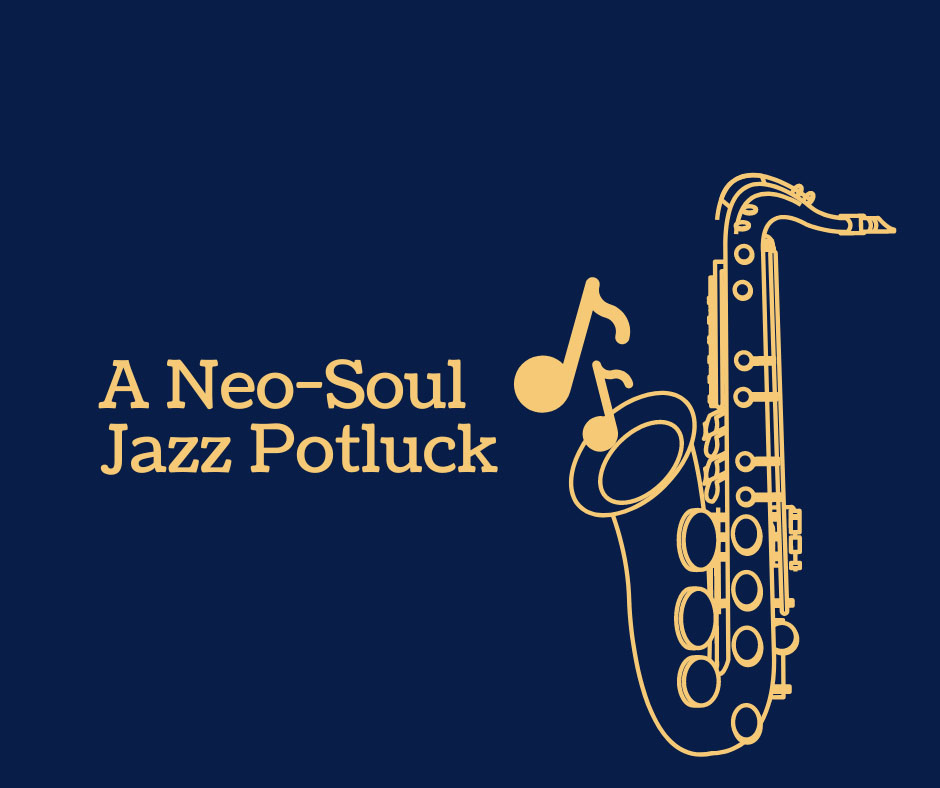 Friday, 14 April 2023
6:30 to 8:00 p.m.
Downtown Tempe
(NOTE: This event was previously scheduled for late March, but the date was MOVED due to road closures for the Tempe Festival of the Arts making the location inaccessible.)
A Neo-Soul Jazz Potluck
Let's connect over Neo-Soul Jazz music. Bring your Neo-Soul Jazz playlist and food to share (with 6 - 8 people). BYOB. This event is limited to 20 guests.
(This is a free potluck event that will utilize the in-house AV provided by the facility which allows HDMI laptop hookup.)
What is Neo-Soul Jazz?
Neo-Soul is a style of music that emerge[s] from soul and contemporary R&B. - Wikipedia
Some Neo-Soul Jazz artists include Nathan Allen, Maestro J and Jonathan Levingston playing tunes from artists like D'Angelo, Erykah Badu, Lauryn Hill, Maxwell, Musiq Soulchild, Alicia Keys, John Legend, and Anthony Hamilton.

About the Facility
Arriving:
This location is held in Downtown Tempe. The building has a well-lit public parking garage attached for $2/hr. There is metered street parking all around and a pay lot directly across the street.
Walking distance from public transit:
• Mill Ave/3rd St. Light Rail Stop – 0.02mi
• 5th St./Ash Ave. Bus Stop – 0.01mi
• Mill Ave/5th St. Streetcar – 0.01mi
Accommodations:
The potluck will be on the first floor of the facility. Entry doors are manual and are locked after 6 p.m.; someone will be there to open the door and check you in. The potluck will be held in a dim-lit theatre with soft seating. Depending on availability, the space may also include a well-lit area with a U-shaped couch that has a large coffee table and a high-top counter with high, plush bar seats that have backs. The area is somewhat accessible for wheelchairs.
Plastic serving and eating utensils, plates, cups, ice, bottled water and non-alcoholic canned drinks will be provided.
The music will be at a level that is favorable for having conversations.
This is a smoke-free building; no smoking of any kind is permitted.
Reach out if you have questions about accessibility.
The exact address will be provided to neighbors who RSVP "yes"
During the potluck, please honor these group etiquettes:
• This is a safe space and judgment-free zone
• Acknowledge that everyone has different backgrounds and life experiences
• The intention is to meet new people and to care for and respect each other
RSVP: If you plan to come, please RSVP using your personalized link, or contact us directly: Email: rsvp@potluckdinner.org [or] text: 480-269-5823
Items guests have signed up to bring:
V. H: Fruit Plate
A. E: chips and guacamole
D. D: something vegetarian
F. T: caribean rice
J. M: ?
K. U: spinach dip and chips
P. H: Birthday cake
R. A: ?
S. R: Main Dish
C. D: ?
C. W: ?
J. H: ?
R. G: ?